Niciodată nu am fost mulţumit de calitatea jocurilor cu temă Star Wars, nici pe vremea când aveam un ZX Sinclair Spectrum şi nici după. Într-adevăr, în ultima vreme n-am mai jucat nimic legat de Star Wars, iar singurul space-game de care mă apropii mai des este Vendetta-Online, un mmorpg foarte bine gândit, care, dacă tot a venit vorba de ZX Spectrum şi HC-85, seamănă foarte mult ca şi concept cu Elite.
Dar să revin la subiect. Pentru fiecare titlul Star Wars de succes, cum a fost Knights of the Old Republic au fost mai multe rateuri (Kinect Star Wars de exemplu) iar unele chiar dezastre totale, cum a fost Republic Heroes. LucasArts a venit acum cu noul Star Wars la conferinţa E3 de săptămâna trecută — Star Wars: 1313 — şi în ciuda experienţei nu neapărat plăcute cu LucasArts, lucrurile nu arată deloc rău.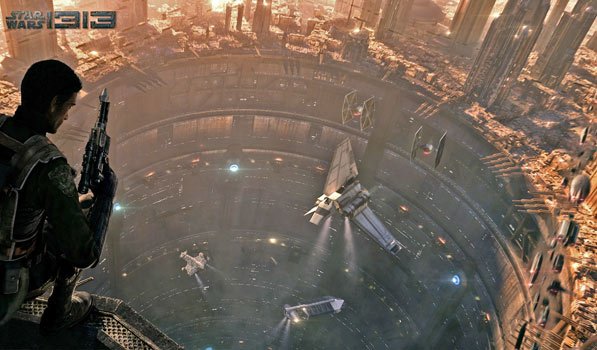 Titlul 1313 se referă la anumit nivel din Coruscant care a devenit un rai pentru criminali şi lumea interlopă. În joc tu eşti în pielea unui vânător de recompense care caută înformaţii despre un criminal necunoscut.
Acesta va fi se pare primul joc Star Wars cu rating "matur", ceea ce înseamnă că vă puteţi aştepta să vedeţi ceva sânge şi o grămadă de înjurături şi cuvinte obscene.
Vestea bună pe care o avem privind filmuleţul de prezentare este că jocul pare să fie construit pentru PC, având în vedere calitatea graficii, deşi vă puteţi aştepta ca jocul să fie lansat simultan şi pe console. Demo-ul ataşat este înregistrat pe PC cu hardware grafic NVidia. O altă cerinţă pe care estimăm că o veţi avea ca să puteţi rula Star Wars: 1313 pare să fie DirectX 11, tot pe baza detaliilor prezente în demo.
Aşteptăm cu toţii noutăţi despre scenariul jocului, fiindcă din detaliile oferite până acum nu ne putem da seama dacă va exista un nivel serios de interes sau vom avea parte de un game-play destul de plictisitor.
https://zona.ro/wp-content/uploads/2012/06/Star-Wars-13131.jpg
350
597
Sorin Dacu
http://zona.ro/wp-content/themes/zonarologo.png
Sorin Dacu
2012-06-06 12:04:49
2012-07-22 23:47:38
Următorul Star Wars: 1313 cu acţiune matură