This is The Police. Asta e Politia. Sase vine garda!!!
Gameplay -

8/10

Grafica -

6/10

Sunet -

10/10
This is The Police. Asta e Politia. Sase vine garda!!!
Primul meu joc story-driven. Odata cu inaintarea in varsta iti pierzi rabdarea pentru povesti si intrigi si…. lasa-ma odata sa impusc niste zombii, sa sar cu masina de pe pod, sa "orice mai putin povestea asta". De la Heroes 3, pe care il jucam acum 10 ani, nu am mai fost atent la povestea unui joc. Si pentru ca am fost atent, stiu ca jocul ma pune in rolul lui Jack Boyd (direct nume de gabor), seful politiei dintr-un oras al carui nume imi scapa. Povestea incepe cu concedierea mea, pentru ca… gabori! Eu, baiat bun, gabor cinstit (ha!), am facut totul ca la carte toata viata. Ma trezesc la sfarsit de cariera fara niciun ban, asa ca in cele 180 de zile pe care le mai am in functie, scopul meu e sa fac 500.000 de coco ( a se citi cinci sute de mii de coco). "1 milion e prea main-stream, eu vreau 500.000" (citat tradus si adaptat din Jack Boyd)
De aici incepe jocul. Iti faci 2 brigazi de gabori, care vor lucra alternativ, cate o zi. Fiecare gabor are personalitatea lui (si gaborii sunt oameni, da?) si problemele lui. Depinde de tine daca vrei sa-l pui sa lucreze in ziua in care el vrea sa mearga la film, sau vrei sa-i dai liber pentru cine-stie-ce urgenta sau motiv Ai in fiecare zi apeluri la care trebuie sa raspunzi. Unele vor fi tepe, altele vor fi mai complicate decat pareau initial.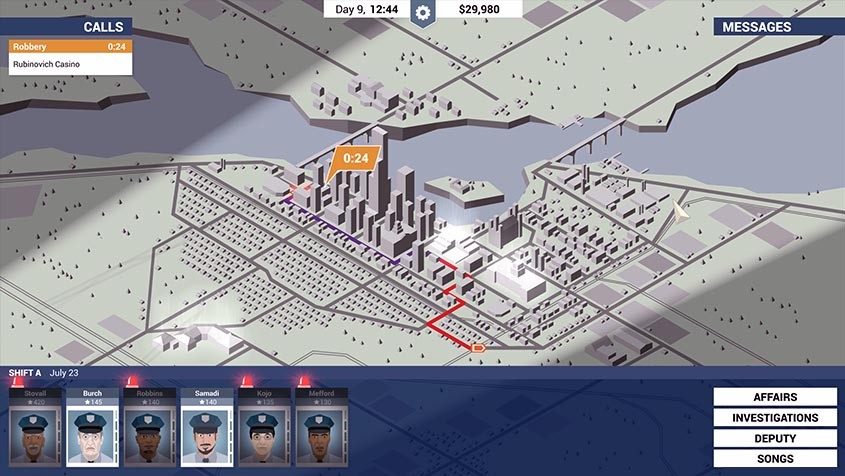 Practic e un resource & time management game. Ceea ce e plictisitor. Partea buna e ca jocul se diversifica si iti arunca un caz dificil sub forma de puzzle la momentul potrivit(aici intra in scena detectivii). Decizii importante asupra carora ai control pot modifica drastic povestea. Am stat timp de o tigara sa ma gandesc daca vreau sa ma anturez cu noua brigada de mafioti din oras sau sa raman cu vechile mele cunostinte. Ah, da… nici nu am incercat si am inteles ca nici nu se prea poate sa ramai curat all the way, sa faci totul ca la carte. Daca vrei sa ramai curat sa faci numai bine pentru oras, vei fi asasinat destul de repede.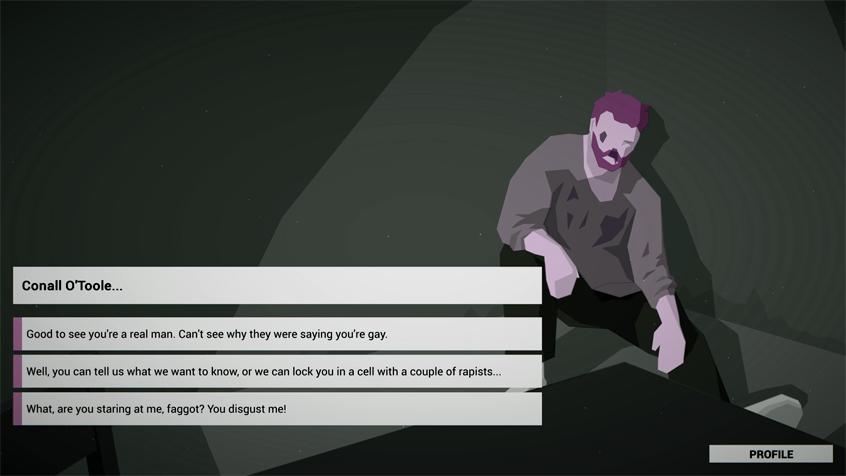 Asta e partea de decision-making. Dupa cum vezi, poti sa intruchipezi un good cop, bad cop sau homofob cop!
Mi-am adus aminte cum se numeste orasul: Freeburg (bad pun developers). Cam atat mi-am adus aminte… eu am ajuns prin ziua 60 si nu stau excelent cu banii. In ritmul asta, daca nu se intampla nimic nu voi reusi sa ajung la 500.000 de coco (a se citi…stii deja). Oricum, ma astept sa apara o mare combinatie cu heroina sau cocaina din care sa tai un procent frumos. Cam asta e Politia! –-> 4 stele.
Daca ti-a placut acest review, am mai facut de curand review-uri si la Overwatch si Doom!