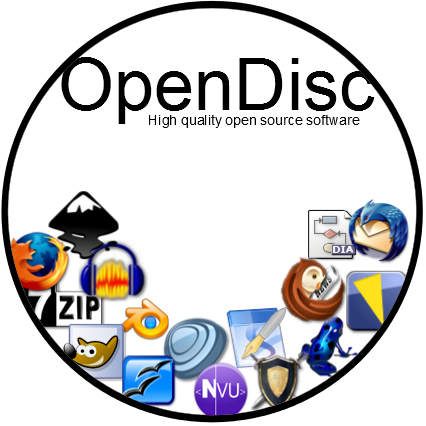 OpenSource de calitate pentru Windows
În pregătirile pentru Software Freedom Day a fost lansată recent versiunea 12.09 pentru OpenDisc, o compilație de programe opensource gratuite pentru Microsoft Windows.
Versiunea curentă cuprinde 27 de actualizări de versiune, printre care numeroase utilitare pe care vă doriți să le aveți la îndemână, dar și jocuri gratuite pentru windows: Audacity 2.0.2, Blender 2.63a, ClamWin 0.97.5, Dia 0.97.2-2, DjVuLibre 3.5.25+4.9, Firefox 15.0, Freeciv 2.3.2, GanttProject 2.5.5, GIMP 2.8.2, GnuCash 2.4.11, HTTrack3.46.1, Maxima 5.28.0-2, Miro 5.0.2, LibreOffice 3.6.1, Pidgin 2.10.6, PokerTH 0.9.5, RSSOwl 2.1.4, Scribus 1.4.1, SeaMonkey 2.12, Sokoban YASC 1.577, Songbird 2.0.0,Stellarium 0.11.4, SumatraPDF 2.1.1, Thunderbird 15.0, TightVNC 2.5.2, TuxMath 2.0.3, VLC 2.0.3, Battle for Wesnoth 1.10.4
Printre utilitarele pe care noi le folosim cu succes aș menționa: Audacity, Firefox, GIMP, HTTrack, Miro, Pdigin, Scribus, SeaMonkey, SumatraPDF, TightVNC și VLC. Ne-am jucat și cu Freeciv, un joc super interesant care sigur vă e cunoscut.
Pentru oricare din aceste programe e suficient să accesați site-ul și să descărcați gratuit pachetul, sau le puteți căuta pe net și descărca individual pe cele de care aveți nevoie.
OpenDisc is a high quality collection of open source software (OSS) for the Microsoft Windows operating system. The two main goals of the project are: To provide a free alternative to costly software, with equal or often better quality equivalents to proprietary, shareware or freeware software for Microsoft Windows. To educate users of Linux as an operating system for home, business and educational use. The majority of programs featured on OpenDisc are also available on Linux.
https://zona.ro/wp-content/uploads/2012/09/OpenDisc-Cover2.png
426
426
Lucian Ruda
http://zona.ro/wp-content/themes/zonarologo.png
Lucian Ruda
2012-09-11 15:22:58
2012-09-11 15:22:58
OpenSource de calitate pentru Windows